Tag: Call That Girl Podcast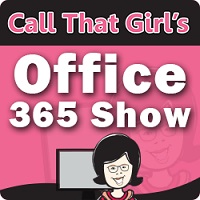 Published date: 06/21/2015
Download at http://www.podnutz.com/ctg025
Show Notes
Guest speaker Carey Holzman builds his own computers, gaming computers, and specializes in hardware.
CompTIA
Office 365

Cloud-based Office software

Home – $99
Business

Six editions

Outlook comes with all products, but if you want to be able to efficiently use your email you may need to purchase Exchange, business class email, or formerly known as Hosted Exchange.

When do you move a client from Google to Outlook/Exchange?

NOT TO SAVE MONEY.
When they are having a problem and it makes more sense for them to be on Exchange.

Office 365 is not a fit for everybody.
Consequences and limitations of the cheaper versions
Troubleshooting example

Five computers using the licensing for one subscription to a licensed product.
Someone found a computer by the dumpster and wanted someone to fix it so that they could use it–they never want to pay.
Updates can fix OR break a system.

Windows 10 Adware/Potentially Unwanted Products
If you do not know what you are doing, DO NOT DO IT. Take your time, learn it the right way. Ask Lisa!!
Interview your clients before recommending software:

What are you already using?
Does it work?

If yes, don't mess with it!!

Plans for expansion?
Budget?
Don't sell them the computer that YOU want: Sell them what they NEED and what is right for THEM.

Listen to the client's needs; Fill those needs.
You don't need to have all the answers, but you need to have the ability to find those answers. Takes knowing the right questions to ask, knowing the right people, or knowing where to look.
TeamViewer using Outlook–and antispyware… headache!