Welcome to my guide to Microsoft OST files. Please take the time to listen to my podcast as well. Everything I share with you in this blog and on the show are all from my experiences Outlook.
Warning about this message, take it seriously! 
Careful, if you remove this account, its offline cached content will be deleted, Learn how to make a backup of the offline .ost file
This is a standard message to alert you that you are about to delete all of your data saved in your Outlook OST file and to back it up. The problem with this pop up message is that Microsoft doesn't tell you that "offline cached content" can actually be many folders, calendar, contacts and other information you have in that OST file. You put data in this OST final unknowingly that it could be deleted as fast as hitting "Yes" to continue. 

 After you say "Yes"  that file does not go to your deleted items in your computer and it's can be expensive to recover, if it can be recovered. I created this blog about IMAP, OST and Outlook. Please take your time reading it and learn more about the OST files if you use IMAP especially for your email.
Welcome to Call That Girl's Guide to Microsoft Outlook OST Files 
Let's start with… what is an PST file?  
It's most commonly used with Pop email account during setup of Outlook.

A PST file generally contains email and folders, calendar appointment, contacts, notes, reminders and tasks.

A PST file can be imported and exported into Outlook and typically backed up by backup programs.

A PST file can also be opened in Outlook

PST files are also handy for transferring email from your POP/IMAP/Exchange when you have overload or want to manage your archived data off your server.

Some of my clients have PST files for archived data organized by year for their email.
Now I will discuss the OST file:
It's a file similar to a PST file but there are many differences!
When you setup a new account in Outlook for the first time, you launch Outlook and input in your name, email and password it sets up your account. Outlook will set up an IMAP or Exchange account by default when you add an account through the "add account" option (See graphic below)

Every IMAP email you setup has it's own OST File. 

After setting up your IMAP email, it creates an OST file that allows your email to synchronize with your computer, the server  and your phone. The OST file syncs only the email, that's why so many of you want other programs that will sync your calendars and contacts with your phones and other devices.

Outlook typically selects the first IMAP account you setup for calendar and contacts if you were to start adding accounts in your Outlook profile. Read below about backing up and exporting this data.

OST files are stored in a hidden folder in your computer. Microsoft hides this directory by default in your Windows, I assume so you don't go in and delete it, not sure on why they do this to be honest. I show you in the graphic below how to find your OST files quickly.

Exchange will hold all of the data from your Exchange server in an OST file and as long as you you don't have anything go wrong, there is no need to backup the OST file because if Outlook crashes, you just download a new copy of your Exchange to Outlook. I have seen some OST with Exchange get corrupted, so be aware and back up the OST file when you backup.

Finally,  as the OST file is not a PST file, the only way to get the data out of it, is to export it to a PST file or CSV (like Excel) from Outlook. If your OST file has been deleted, it needs to be recovered and once recovered, it needs to be converted to a PST file. This is a lot of technical work and can be expensive.
 
If you have an  email account setup with POP only, it will give you an error and you have to setup manually. But what you might not know is if you setup an account for IMAP and don't have a local PST file, if you start using the calendar and import old calendars and contacts, that data is being held in an OST file and as I said above..not being backed up by traditional backup programs, cannot be imported into another version of Outlook and can be deleted very fast if you accidentally remove the email account from Outlook or delete a profile. The top 4 dangers of IMAP in Outlook 2013 and 2016.
Where are the OST files in Outlook? 
They should be in a hidden folder in the appdata folder in your Windows. You can't see in Windows unless you "unhide the folders".  But there is an easier way to find them by opening your account setting in Outlook, then go to Data Files and click on the email account and above under the tabs click on "Open File Location" and it will open your hidden appdata folder for you. See pictures below.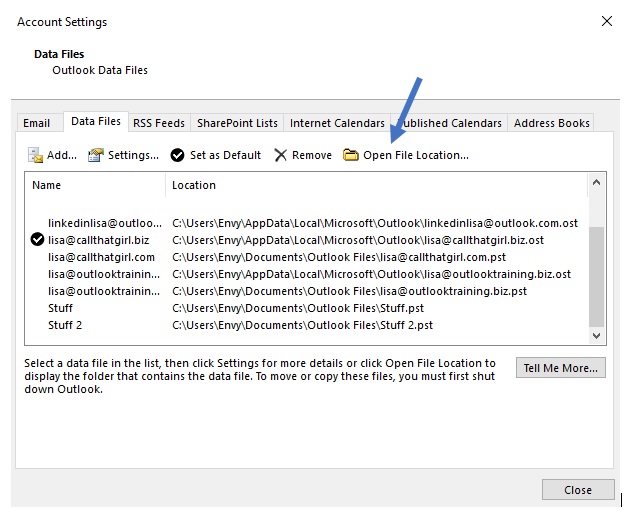 Backing up the OST Files
Some technicians don't believe in backing up these files because they should be easily downloaded again from the server,, but I find them to be very important for data retention and in case of an accident removal in Outlook. I highly recommend that you add this folder C:\Users\your profile name\AppData\Local\Microsoft\Outlook to your backup program. If you even want to copy the whole directly, close Outlook and then copy each one even to another directory in your windows. Any copy is better than no copy!
Exporting the OST data to a PST or CSV for new computer transfer or removing an IMAP acccount from Outlook profile
If you are transferring your data to a new computer or need to remove an IMAP from an Outlook profie or just want a backup of your calendar and contacts, you can export through the import/export wizard in Outlook. You can back up the the IMAP emails, contacts, calendars, tasks and notes to a PST file. I usually back up calendar and contacts to a CSV file. If you are not sure how to do this, I can teach you and do an evaluation of your setup.  Use my scheduler below to get on my calendar.
Once you are confident these all are backed up to a CSV or PST, then you can safely delete that IMAP account from your Outlook or delete an Outlook profile. TIP: I never delete profiles from Outlook unless it's absolutely necessary.  And if I have to, I now take a copy of that OST file and put in a safe directory. Keep in mind, this will need to be converted to a PST file if you want to view the data again.
What happens if you click YES to remove the account and didn't backup, can that OST file be recovered?
Maybe. That file does disappear from the computer and it is not in the deleted items. But there are programs that can do a computer search and it might find the files. I can help assist with this recovery and I will let you know, it's not a fast recovery. It's actually done in two parts. One is to try to recover the OST file, then you have to extract that data to a file Outlook can open. Expect this to be a 1-3 day recovery effort.
Other options for you if you use IMAP
Migrate all of your email, contacts, calendars, notes, tasks and reminders to a Microsoft Exchange server. I can assist with this migration, please contact me below to discuss. I also do large scale migrations for companies.

Export your data that is in the OST file to a PST file, it will attach on it's own in Outlook. That PST file then can be backed up and transferred easily to other computers.
If you need my  help and want get on my calendar now, please use my online scheduler form. I have openings everyday! Click here ->http://bit.ly/1C2IoEO
If you are a computer repair technician, you might also want to take my Outlook Troubleshooting for Technicians Video Course. It will be the best $99 you have ever spent. Click here to buy http://outlooktrainingfortechnicians.com
Category: Outlook Support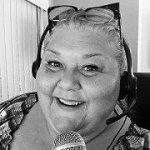 Lisa Hendrickson is the owner of Call That Girl Technology Support. She is an Outlook Expert and Office 365 Consultant. Her specialties include being a Remote Support Technician, Technology Blogger, Podcaster and she is also of the author of six eBooks for computer repair businesses including the most popular "Call That Girl's Guide to Remote Support" To read and learn more, http://www.callthatgirl.biz/publications